About
Enduro News was started in 1998 by Bob Mullins to promote the 1999 2nd round of the FIM World Enduro Championship held in Llandovery Enduro is the offroad motorcycle equivalent of car rallying. Riders follow a marked course & compete over timed stages. It requires the technical ability of Trials & the speed of Motocross. As well as the ATV machines made by Honda, Yamaha, Suzuki & Kawasaki there are specialists manufacturers such KTM, BMW, Husaberg, Husqvarna, GasGas, TM, Sherco & Aprilia. The machines require tough suspension & road legal Mx tyres. Tyre manufacturers such as Metzeler Maxxis Michelin & Pirelli sponsor the events. There is an aftermarket parts industry with Acerbis plastics, Renthal handlebars. FMF exhausts, The riding gear is also specially made by suppliers such as Sinisalo, No Fear, Thor, Scott, Oakley goggles, Fox, Alpinestar boots, Aria, Airoh helmets.
Enduro News is sponsored by CTR Events, D3 Racing, Dirtbike-Action, Dr.Shox Suspension, Eurotek, Evans Waterless Engine Coolant. Fast Eddy Racing, Edmondson Racing, Endurotyres, GBXC, Haines & Co., Husqvarna, Manchester Extreme, Midwest, Mounter Motorcycles, Paul Green Tyres. Pro-Racing, Race Spec, RideoffroadUk, Steve Plain MC, Taurustrax, TM Racing, TracknTrail, WOR Events
Enduro News received 1,000,000+ hits in 2014

All content © Bob MuIIins
WOR Events
"Don't get "MAERDY" with me!"
Back in the day as the old Wirral Off Road Club, They ran an event in June 2003, Called "Maerdy"...
This was a round of that years ACU British Hare and Hounds series and was won by Andrew Cripps.. It was possibly one of the best off road tracks that has ever been used for an Enduro event. Now 12 years on, the current WOR Events team have just secured the exclusive use of this venue again and the riders are in for a massive treat. Details
WOR EVENTS BADEN HALL
6HR ENDUROTHON
HARE & HOUNDS
IRONMAN / 2MAN OR SOLO 2HR - 19th JULY 2015.
Money saving entries are now open for the 6hr hare and hounds special at Baden Hall, Staffs on July 19th prepared and promoted by WOR Events. Details
WOR Events
CF RACING
HUSQVARNA 2016 MODEL TEST DAY
@ BADEN HALL (ST21 6LG) , SATURDAY JULY 18th 2015.
"WOR Events are pleased to announce that the entire, brand new 2016 Husqvarna Enduro model range will be available for riders to try on the RED fun day , scheduled for BADEN HALL, Staffs on Saturday July 18th. Details
WOR Events

HIGH VOLTAGE - A day in the dirt for electric bikes ..
"The future is coming and ultimately the future of dirt biking and off road riding is going to be an electric vision and with this in mind, the innovative WOR Events organisation are once again leading the way with an event first.. HIGH VOLTAGE, a day in the dirt just for electric bikes. Details
Fast Eddy

Fast Eddy Racing
Rock Oil XC Championship
Rd.6 at H2OOswestry
H2O near Oswestry once again earned its name as thick mist followed by heavy downpours shrouded the venue for most of the morning, as riders took to the line for the sixth round of the Rock Oil XC Championship.
High up in the hills, the venue has a huge amount of varying terrain which includes a huge MX track, a nasty rooted and rocky woodland and plenty of ravines with steep entrances and even steeper exits. Details
Extreme

Jonny Walker to ride at Cowm
Jonny said " I'm really looking forward to racing the 3rd round of the Fast Eddy X-Treme championship next week , i couldn't make the previous rounds due to other races abroad so its great to get a chance to compete back in the UK , Cowm Quarry is one of my favourite UK Hard Enduro tracks and its great viewing for the fans , i'm quite sure the racing will be close and exciting . My seasons been really good so far and i have a few big international events coming up in Romania, Italy and Poland , so the Eddy X-Treme comes at a good time to help me prepare and get some extra quality training in. Looking forward to seeing a lot of British fans there and hopefully putting on a good show. "
Dirtbike-Action
A GREAT COURSE FOR THE HARWOOD ENDURO
USING THE BEST TRAILS IN THE FOREST LINKED TOGETHER WITH FORESTRY ROADS . ENTRIES ARE AVAILABLE PHONE 07557665647 OR ENTER ON LINE www.dirtbike-action.co.uk

. C

onditions within the forest are very dry and suitable for all classes the special test is located next to the start camping from Saturday and a 10.30 start on Sunday to allow for travel. Final instructions on the web Thursday night. NORTHERN ENDURO CHAMPIONSHIP STANDINGS
Welsh 2 Day
Steve Holcombe wins the Welsh
Beta mounted Steve Holcombe won the 2015 ET James Welsh 2 day Enduro on the 25/26th June at Llandrindod Wells. Joe Wootton won the second day to secured the runner up and Jamie Lewis was third. Tree felling in the Tywi forest resulted in the loss of the Water Splashes near Strata Florida but Clerk of the Course Huw Watkins and his team rallied to re-open an exciting 130 mile loop around Knighton plus a week of good weather ensured that the 2015 Welsh was one of the most enjoyable events of recent years for riders and supporters. By Wednesday morning the temporary W2D village had sprung up around the lakeside at Llandod with teams arriving from as far afield as Australia, America, Iceland and the Falkland Islands. At 8.00am on Thursday morning the first 2 of the 37 strong sidecar class were flagged away by the mayor. The opening test was at Church farm - 3 miles outside the town near Crossgates. The grass under the trees was still heavy with dew and many of the Sportsmen found that the fastest line was horizontal. In a middle of the field the Classic class arrived with it's unmistakable fanfare of blowing exhausts. Ashley Wood set the fastest time on a 240 Husky ahead of Robert Jones on a 450 Maico. The Championship class rode all 3 tests twice. Steve Holcombe kept his grip and established a 16 second lead over Joe Wootton. Less than 3 seconds separated Jamie Lewis in 3rd from 5 times Welsh winner Daryl Bolter. Carl Jones set the 6th fastest time on his first test but a collision with Frazer Norrie wrecked his front wheel and ended his day. Test 2 was at the Saints Well MX track. As well as the freshly graded track the riders were also treated to woodland section and a "spiral". Steve Holcombe extended his lead by 11 seconds. The 3rd test was at Abbeycwmhir. Notorious in the wet, the grassy bank was fast and flowing in this year's dry conditions. Steve Holcombe once again set the fastest times to take the first day by 33 seconds from Joe Wootton. Jamie Lewis was 3rd. In a close battle - with both sides setting fastest times - the combination of Jonathan Williams and Neil James won the Championship Sidecar class by 2 seconds from David Williams and Simon Brown. Rob Jones won the Classic class. Overnight light showers passed over Llandod but by the time opening marshals set off the ground was dry and the sky was clearing. The competitors were flagged away from 7.00am. As usual the course was reversed and the first test of the day was at Abbeycwmhir. Steve Holcombe set the fastest times but at Saints Well he lost 8 seconds on his first run and Joe Wootton overhauled him. Steve pulled back some time at the Church but as Joe circled the lake at Llandod he was the Day 2 winner. Overall Steve Holcombe took the Premier. Joe Wootton was runner up and Jamie Lewis was 3rd. Daryl Bolter was 4th, Lee Sealey 5th, Edward Jones 6th, Ade Smith 7th, Euan Mcconnell 8th, Charles Evans 9th, David Herring 10th, Dylan Jones 11th, Frazer Norrie 12th and Chris Hockey 13th Photos Results Day 1 - Day 2 - Combined

South Africa
Round 5 of the 2015 Liquorland National Enduro Motorcycle Championship
ANYTHING CAN HAPPEN AT PENULTIMATE NATIONAL ENDURO AT ESTCOURT
Yes, anything can still happen in the 2015 Liquorland National Enduro Championship and competitors will have to do everything right at the fifth round of the season, the Liquorland WFO White Mountain National Enduro that takes place this weekend (July 4th) at Estcourt in KwaZulu-Natal. Details
Extreme
Robbo Robinson's Erzberg Diary - Part 2
CTR Events
Kalem Hicks logs another win
CTR Events Summer Series Championship Round 4 at the incredulous Fan Farm
Kalem Hicks came away with a well-deserved win at CTR Events SSC 4 after a full 2 and half hours battle with Brad Williams. Details - Photos
WOR Events
WOR EVENTS MICHELIN XCE
SERIES 2015 Rd 2 @ RHUG SCRAMBLE - JUNE 2015
Report : Keith Williams Pictures : WOREM Pics.
WOR Events unleashed yet another Brand new venue to the lucky riders last Sunday at the Michelin XCE (Cross Country Enduro 2hr race format) series rd 2. The course was set on land that was due for ploughing after the event meaning the course could go anywhere the plotters liked and was planned and prepped fantastically by the WOR team to offer a 4 mile lap that was unique and exciting as it blasted through the Welsh countryside. Details

Butser Sprint Rodeo
Butser Lime Works 21-06-15
Daryl Bolter was simply awesome today with such clinical precise riding skills that gave the deserved victory at The Butser Sprint held at the famous Trials venue of the Butser Lime Works and run jointly by PMCRC and Witley MCC. Results Helmet cam by Dom Wilson Video - Photos
EWC
Grand Prix of Italy - Rovetta - June 19/20/21st
The Italian Job
As the late Friday evening sun lit the Bergamasche Valley, an enthusiastic Italian crowd gathered outside Rovetta for the Supertest prologue of the 5th round of the 2015 Enduro World Championship. The course was a flat out blast up and down the side of a hill. Christophe Nambotin set the fastest time in the E1 class. With few obstacles the races were very close. Only 2 seconds off the lead Danny McCanney was 10th. Jaume Betriu was the surprise winner of E2 class but Mathias Bellino won E3 as expected. He was the fastest overall. Jamie McCanney was the best Junior and Steve Holcombe was 3rd. Josep Garcia won the Youth class and Jack Edmondson was 9th Details . Results - Supertest Day 1 Day 2
France
French Enduro Championship at Bar sur Seine
EWC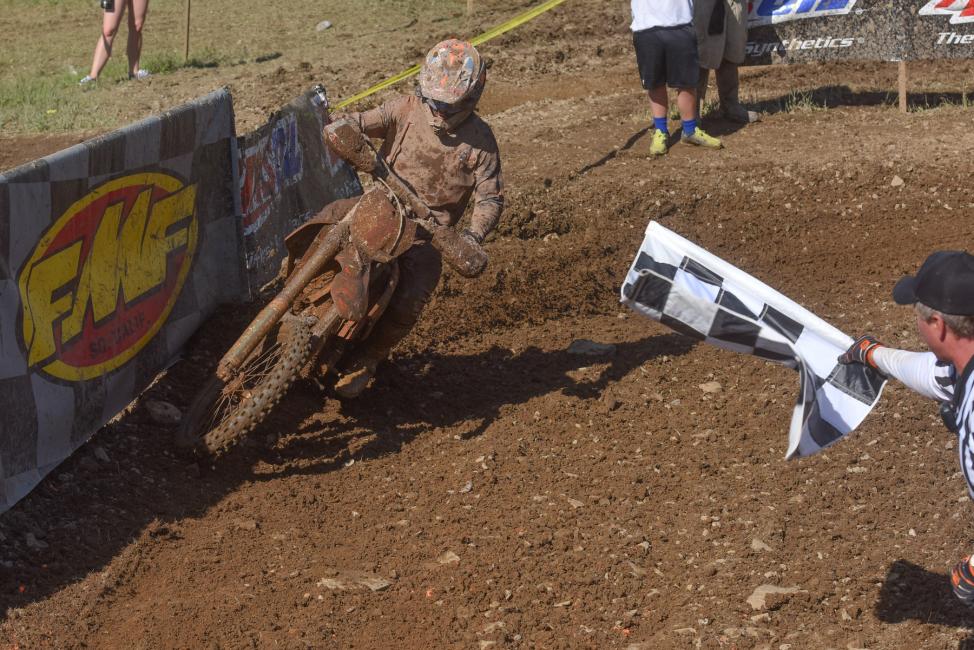 Kailub Russell Captures Eighth Victory of 2015 at the AMSOIL Snowshoe GNCC
Jason Thomas Secures Fifth Win of the Season in XC2 Pro Lites - Details
EWC
Interview Jonathan MANZI (I – Gas Gas)
"The tests are typical from the Bergamasche Valley!"
A few hours before the KTM Super Test, we spent few minutes to have a chat with local rider Jonathan MANZI (I – Gas Gas). Rovetta resident, the Gas Gas rider gave us his impressions on the track and also what represent to him this Grand Prix Acerbis of Italy in his town. Details -
Extreme
Robbo Robinson's Erzberg Diary - Part 1
Eddy's X-treme Enduro
ACU British Extreme Enduro Championship
Rd.3 Cowm Quarry
The vast expanse of South Wales and the tight and technical challenge of Tong come together at Cowm Quarry on the weekend of July 4-5th for the third and final round of the 2015 ACU British Extreme Enduro Championship.
Eddy's Xtreme Enduro ends its season at the huge Cowm Quarry near Whitworth in Lancashire in the grand finale for extreme enduro in the UK, a rock-strewn wasteland on the hills above Rochdale. It is a tough place at the best of times and the weather can be unpredictable but one thing is for certain –there will be no easy finish to this spectacular and exciting series.
Graham Jarvis has already confirmed his place and with less than a month to go it is certain that he will have stiff competition from other top riders as entries start flooding in for this action packed weekend.
Saturday 4th July hosts a FED day with a difference – An Extreme FED Day running from 9.00am until 1.00pm, for the normal price of just £30.
Saturday afternoon has a very special event. A training school hosted by Graham Jarvis and Fast Eddy who, together, bring a wealth of experience and multitude of bike skills to the table. Running from 1.00-4.00pm this great opportunity is available to a limited number of riders for only £50 so it is best to book your place ahead of time.
Just to sweeten the pot, riders who want to attend the FED day and the Extreme training get a tenner off the deal, both for £70.
The big day arrives on Sunday 5th July with two races planned. The two-hour Sportsman, Veterans and Youth race starts at 10.00am sharp and will provide a fantastic prologue to the afternoon's Pro, Expert and Clubman 2.5 hour finale. It's tough 'Up North' and this race will show just how tough it really is!
To reserve a place on the FED day or training please ring Kath on 0780291143 or Mandy on 01543 370070.
Entry forms for the Sunday's Eddy's X-treme event are now available online at www.fasteddyracing.com
Cowm Quarry circuit, High Barn Lane, Whitworth, Lancashire, OL12 8XG
5th July - Core off road events are holding a full day of endurocross racing and practice in aid of Devon Air ambulance this Sunday at Cotton farm near Tiverton, Devon. EX16 8LY
In the morning there will be 3 x 45 minute races - first race 9.30am. - £45.00 online entry + £10 day licence if required.ACU/IOPD annual licences accepted. Day entries available for £55.00 + £10 day licence if required.
In the afternoon the full track will be open for practice whether you have raced or not, please come and sign on and make a sensible donation to the Air Ambulance first.
For entry and full details please see www.coreoffroadevents.co.uk
Entries are now available for Rhayader MC's "Evening Moto Duro" that will take place on Wednesday 8th July.
There are classes for Expert, Clubman, Over 40's, Over 50's, Sportsman & Sidecars.
The format will be 2 x 1 hour races. The 1st race will start at 6.45pm & the 2nd race will start at 8.00pm.
The event will be held at Cwmythig Hill, near Rhayader & the lap will include BOTH motocross circuits plus nearby fields. Online Entry - Entry Form
For further details check out the clubs website – www.rdmcc.co.uk
Raw Enduro Championship Round 6
Norwood Teversal Nott's NG17 2JR - July 12th
The latest event coming your way from RAW Enduro will be staged at a truly iconic venue in Nottinghamshire. Norwood Teversal is a venue which although compact in its layout, it is truly iconic, Norwood was the site of televised scrambles back in the 60's and 70's, the scrambles used to be screened when televised football was cancelled. So what's on? Firstly this event will only run if the weather is good the week before and on race day. Norwood HAS to be dry for parking and a great event, so Norwood fans don't panic, if it's too wet it won't be running.
Wayne Braybrook and his staff will be creating a massively enjoyable lap with a little bit of everything to test riders of all abilities. Our usual top class caterer will be on site, friendly efficient RAW event staff will be on hand to help and assist any new or returning to racing competitors. Day Licence is available for £5, with adult race entries at £45 and Youths at £35. RAW Enduro Accept IOPD, ACU, and AMCA Enduro licences.
PLEASE NOTE: Norwood looks set to be a great event, if you intend to ride please enter soon, due to paddock parking restrictions there is a limit on the amount of entries we can take. So the chances are there will be no day entries as the event will be full. You have been informed!!
First on track Sunday morning at 8.30am are the youth classes who will run for 90 minutes. Then the adult Sportsman, Sportsman vets, Over 50, Ladies and Beginners will start at 10.30am for 2 hours, after a short break for the morning event presentation and results, at 1.30pm the more experienced Expert, Expert vets, Clubman and Clubman vets will be on track for their event.
To get entered could all riders please send a text to 07802 572023 if they intend to take part. Information needed is NAME, CLASS, RACE NUMBER, AND LICENCE NUMBER or Day licence is available at a cost of £5.
For more info see the Raw Enduro Face book page.
Tenko - THE ULTIMATE JUNGLE TRACK
Track N Trail Enduro Freeride Sunday 12th July 2015
Tenko is in pristine condition! Straight after round 3 in May the team re-graded the whole track with diggers and graders widening and levelling it. The outcome is no ruts or bumps and a much wider track with lots of overtaking lines for your enjoyment!
This track is known by many of you as the "Ultimate Jungle Track". You will ride though flowing woodland with jumps and sandy terrain that is similar to the Japanese Jungle. Gravelly and sandy terrain makes the track quite technical, so keep your wits about you. We've tagged this track "The Ultimate Jungle Track" because it was used by the BBC to film the TV series Tenko back in the 80's as it looks so similar to the Japanese jungle!

There's a YouTube clip on our website homepage which you can check out. It's the second video on the rotator screen. Or via this link: https://youtu.be/XAU5NKYgg3Q
Payment is on the day. Members pay £32. Non Members pay £35
Starts 10am finishes 3pm.
Venue: Tenko Nr Dorchester, closest Post code is DT2 8BG
Any tyre. Noise limit 94db.
This venue should prove very popular so please book up now. Adult and youth practice plus a youth beginner's track, Youth beginners track £ 10

To Sign up go to http://www.trackntrail.co.uk/Tenko%20Freeride.htm .
Payment is on the day.
Once you have booked online an email be sent out automatically to confirm your booking. Then Friday before the event an email with be sent out with final instructions. Any problem booking in please ring or text 07581143212.
Thanks for your support.
***NEW EVENT FOR 2015 ***
Saturday 29th August – Trevor Evans Memorial Enduro – starting from Home Farm, Abbeycwmhir, nr Rhayader, Mid-Wales. Start 11.00am
In memory of the late Trevor Evans (ex British Sidecar Enduro Champion & Rhayader Motor Club committee member).
Raising money for local cancer charity (Bracken Trust)
Classes for – Solo's (Championship, Experts, Clubman, Veteran Over 40's, Veteran Over 50's, Sportsman), & Sidecars (Championship, Expert & Clubman).
The lap will be approx. 20 miles of good forestry tracks (suited for Clubman/Sportsman level riders).
The Special Test will be at the Start/Finish area (along with "re-fuelling").
"Presentation of Awards" will follow in the Marquee (with licensed bar), along with live singing & music.
Awards to top 3 in each class. Transponder Timing. Overnight camping welcome.
Don't miss out on the action!!
For further details check out the Clubs website – www.rdmcc.co.uk - Online Entries - Entry forms
CLICK HERE FOR CALENDAR FOR FULL LISTINGS