01443 400960

May 14th Pay & Play
May 15th Rock Oil R3
Westwood Sheffield.

0161 483 5559

01423 772885

Dates posted

Enduro Practice

KIDS TRAINING BIKE
New Kids Training Bike added to Husqvarna Motorcycles range of accessories & lifestyle products. Details
About
Enduro News was started in 1998 by Bob Mullins to promote the 1999 2nd round of the FIM World Enduro Championship held in Llandovery Enduro is the offroad motorcycle equivalent of car rallying. Riders follow a marked course & compete over timed stages. It requires the technical ability of Trials & the speed of Motocross. As well as the ATV machines made by Honda, Yamaha, Suzuki & Kawasaki there are specialists manufacturers such KTM, BMW, Husaberg, Husqvarna, GasGas, TM, Sherco & Aprilia. The machines require tough suspension & road legal Mx tyres. Tyre manufacturers such as Metzeler Maxxis Michelin & Pirelli sponsor the events. There is an aftermarket parts industry with Acerbis plastics, Renthal handlebars. FMF exhausts, The riding gear is also specially made by suppliers such as Sinisalo, No Fear, Thor, Scott, Oakley goggles, Fox, Alpinestar boots, Aria, Airoh helmets.
Enduro News is sponsored by CTR Events, D3 Racing, Dirtbike-Action, Dr.Shox Suspension, Eurotek, Evans Waterless Engine Coolant. Fast Eddy Racing, Edmondson Racing, Endurotyres, GBXC, Haines & Co., Husqvarna, Manchester Extreme, Midwest, Mounter Motorcycles, Paul Green Tyres. Pro-Racing, Race Spec, RideoffroadUk, Steve Plain MC, Taurustrax, TM Racing, TracknTrail, WOR Events
Enduro News received 1,000,000+ hits in 2014
XTREME KIELDER THE TIMBER TRAIL
Dirtbike action is pleased to announce the longest and hardest extreme enduro seen on UK soil.
After months of negotiations with the forestry commission the date has been set 30/31 July Wark forest Kielder Northumberland
The course will be 50 to 60 miles 1 lap of tough going set to test man and machine, Saturday will be prologue day starting 2 pm this will determine the start order, Sunday will see the riders with an 8 am start and 6 hours to get to the Finish. There will be bronze and silver finishing points for the lower classes but the ultimate achievement for all classes is to get to the finish this is a round of the Eurotek Putoline extreme championship. Details
Fast Eddy Racing
Steve Holcombe wins GBXC
30th April/1st May - Oswestry
The 2nd Round of the Fast Eddy Racing ACU 2016 GBXC Sprint series moved to H2o near Oswestry this May Day weekend. The fields were speckled with Spring lambs but the weather was less than Springlike and the Fast Eddy team did a great job of laying out 2 courses with snow falling on the day before the event. Results Day1 - Day2 - Details - Photos - Billy Bolt -
WOR Events

WOR Events - May Dates
THIS WEEKEND 7/8th MAY - NEWTOWN - SY17 5NW
A fantastic 11 mile lap awaits the lucky riding folk that will be taking part at WOR's event this weekend, Nr Newtown in Mid Wales. - Details

Fast Eddy Racing
The Fast Eddy ACU British Extreme Enduro Championship: Update
Following a hugely successful weekend at H2O Paul Edmondson has decided that the venue will make an excellent setting for the final round of the 2016 Eddy's Extreme Championship. The new date for the final round is August 13th. The venue is H2O near Selattyn, postcode SY10 7PA. - Details

WOR Events

TOUGH MUDDING
MICHELIN XCE RD1 RACE SUMMARY
INC ALED EVANS MEMORIAL SHIELD
Report WOR MEDIA
Pics 2LOOK PHOTOGRAPHY
Gethin Humpreys was in unstoppable form at WOR's latest event as the Michelin XCE series for 2016 got off to a super wet and muddy start. - Details

SEEC

999 Timecard Enduro SEEC
Hosted by Dorset Police/London Fire Brigade and Surrey Police
Bovington Tank Training Area 01-05-2016
What a fantastic event , an 11 mile loop that had sand / bogs / woods / fast flowing whoops / fast fire roads, gnarly horrible woods / jumps and a special test fit for any BEC round courtesy of Enduro legend Rob Sartin - Details

AMA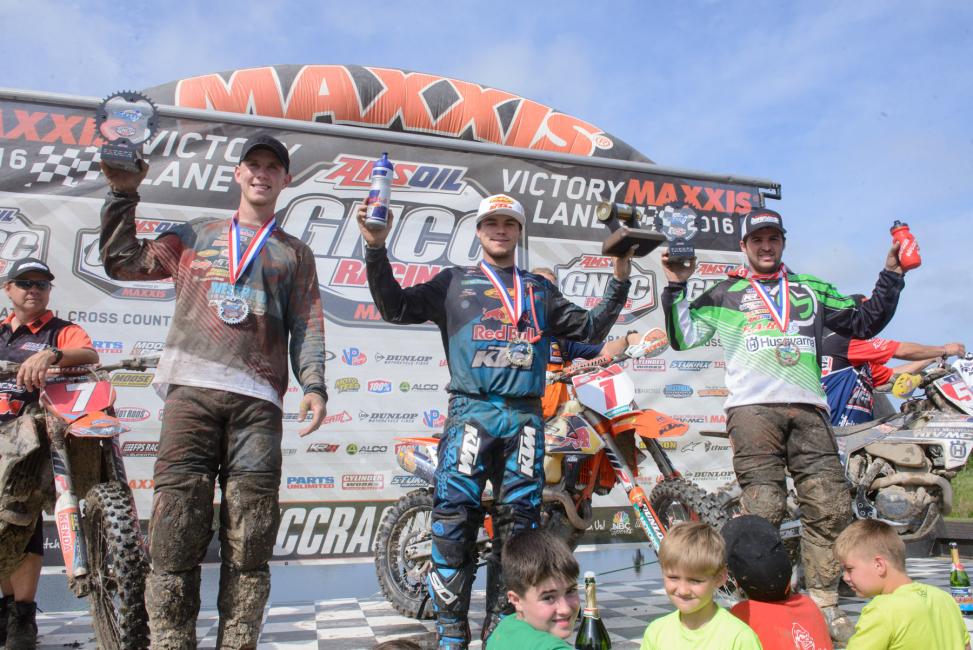 Kailub Russell Wins Inaugural CST Tires Camp Coker Bullet GNCC
Layne Michael Claims First XC2 Pro Lites Victory of the Season
The 2016 AMSOIL Grand National Cross Country (GNCC) Series presented by Maxxis, an AMA National Championship, continued today, May 1, with the Inaugural CST Tires Camp Coker Bullet GNCC at Moree's Hunting Preserve. - Details

AMA
FIM International Six Days Enduro Trophy and Junior Trophy Teams announced
Structure changed to four-rider Trophy Team, three-rider Junior Trophy Team - Details

Extreme
Hensall Media reports on Extreme Ravines
GNCC
Charlie Mullins retires - Details
Extreme
EUROPEAN EXTREME ENDURO CUP
Valongo Portugal on 23/24th April 2016.
The city of Valongo, in Northern Portugal, hosted the second round of the European Cup Enduro Extreme, on an extremely difficult route created by Extreme Club de Lagares, Details

GNCC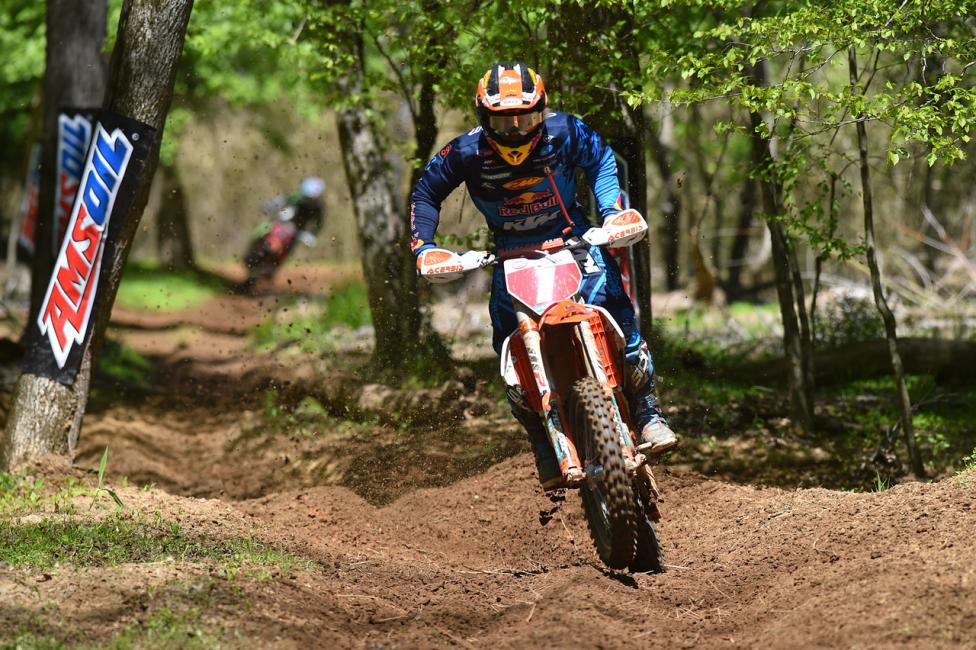 Russell and Strang Head to Inaugural CST Tires Camp Coker Bullet GNCC Tied In National Championship Standings
Bollinger Strives to Stay Undefeated in XC2 Pro Lites After Round Five, Details
Scottish Six Day Trial
LAMPKIN BIDS FOR TENTH SCOTTISH SIX DAYS TRIAL WIN
Next week will see the annual coming of the World famous Scottish Six Days Trial (SSDT) - Monday 2nd to Saturday 7th May - to its now recognised base of Fort William in the Scottish Highlands, Details
Extreme Ravines
Knight wins Extreme Ravines
David Knight won the 2016 Putoline Eurotek Extreme Ravines round 3 of rhe Fast Eddy ACU British Extreme Enduro Championship. Graham Jarvis was 2nd and Billy Bolt was 3rd, Knighter said " Mint day at Extreme Ravines, Great track. Fun but tough, Good weather and a clear win on the Honda in my first race for them. I really didn't expect a great result this weekend as I was last minute scratching but it just goes to show what a little new motivation can do." Details - Results - Billy Bolt
Fast Eddy Racing
David Knight, Steve Holcombe, Daryl Bolter, Brad Freeman, Danny McCanney & Tom Sagar booked into ACU GBXC British Sprint Championship
at H2O, Selattyn, near Oswestry, SY10 7PA
Rounds 3 & 4 - 30th April & 1st May 2016 - Riders - Details
WOR Events
WOR SE TIMECARD ENDURO
24th April
WOR's New Format SCE Timecard Enduro went off superbly last Sunday. The Short Course Enduro had a 10 mile lap that included a 2 mile special test, The track and the weather were simply perfect for the full house of riders. Details - Results - Video
Enduro GP
Interview Steve HOLCOMBE (GB – Beta)
HOLCOMBE remains humble and lucid!
After an impressive start in Morocco and then clinching his first EnduroGP victory in Portugal, we have decided to have a chat with one of the brightest prospect from the UK: Steve HOLCOMBE (GB – Beta)… The Beta rider gives his impression about his start of season, why he has chosen Beta and learns us more about him… Details
Bury St Edmunds MCC

DAVE BARKSHIRE MOTORCYCLES TWO MAN ENDURO CHAMPIONSHIPS- ROUND 1
Round 1 of the Dave Barkshire Motorcycles Two Man Enduro Championship was full of drama and excitement. Details
Cotswold EC

Cotswold Enduro Club
Club Championship & Rock Oil H&H Rd.2 - Shuckburgh Hall. Northants
A one-week delay for the second round of Cotswold Enduro Club's Rock Oil Hare and Hounds Championship at Shuckburgh Hall was a very smart move indeed. Details
French Enduro Championship
Bellino wins French Opener
Mathias Bellino won the opening round of the 2016 French Enduro Championship at Saint Palias - Results - Videos Day 1 Day 2
Kenda Full Gas Sprint
Layne Michael won his first FGSE
at the third round of the 2016 Kenda Full Gas Sprint Enduro Series in Romney, WV. The round also served as the 2016 East Coast ISDE Qualifier with Josh Toth taking the LOI overall ahead of Broc Hepler. Details
Triple-D Motorsport

01539 732666

Tel: 01765 608 209

FINANCE AVAILABLE
Subject to status
Featured Events

Fast Eddy Racing Rock Oil XC Championship. Rd3
The Fast Eddy Racing Rock Oil XC Championship resumes on May 8th with Round 3 at Ashby Moto Park, postcode LE65 1SD.
There will be a FED day on Saturday 7th May which is £30 per rider.
Sunday sees three races: Youth race, AM race and PM race which costs £35 for youth race riders and £45 for Adult riders (Member prices).
This family friendly series is great fun to race in and non-members are equally welcome as our regular riders. Siteowner Keith Staines has been extremely busy working on the venue and riders will be pleasantly surprised with the improvements.
The fourth round of the Championship will be at the end of May, Sunday 29th, at Brake Hill Farm, postcode NN14 3NB, with a FED day on Saturday 28th. Same format as round three with three races planned for Sunday. To enter, please call 01543 370070 or call Christine on 07889 924560.

Track n Trails Next event - Thorncombe Freeride 8th May 2016
The stubble fields are out and the grass fields are in! This is a new track layout from our last practice and it will be significantly different from our GNCC Scramble race track back in April.
We are incorporating much more of the flowing grass sections of the farm for you to tear through, more woodland, some stony stream beds and plenty of jumps. The overall track length is 3-4miles and not forgetting plenty of hard route choices if you fancy a crack at them. Rideable for all abilities
Time; 10 am to 3pm
Cost for the day £32 for Members £ 35 non-members
Camping is available all weekend at £ 10 a pitch
Venue: Thorncombe Nr Bridport Post code TA20 4PN
U tube Video Thorncombe: This excellent video shows a great view of the track, follow this link https://youtu.be/tulDy_p3oq8
For full details and to book your ride CLICK HERE
Any problems with booking in online please text "FREERIDE" with your Name, Date of Event and membership No if applicable to 07581143212 or email office@trackntrail.co.uk .
Run under ACU guidelines.

7/8th May - ENDURO PRACTICE WEEKEND
We have 2 practice days this weekend Saturday 7th May Dalton moto parc using the reworked mx track and stubble x no sessions starts 10 finishing 3 pm suitable for all abilities the venue is sign in from dalton village near thirsk catering will be open £25 online £30 pay on the day
Sunday 8th May helmsley enduro practice 40 min loop including optional extreme ravines loops starts the enduro loop is suitable for all abilities 10am finishing 3 pm signed in from helmsley market square nearest post code yo62 5ep then follow red arrows book on line £30 or pay on the day £35 Details

SUDBURY MCC
After a break of two months the 2016 G H Motorcycles / Husqvarna / ACU Eastern Enduro Championship resumes on Sunday 8th May the venue being Foxborough Quarry Details


14th / 15th May - Raw Enduro Rock Oil Hare & Hounds Championship Round 3
Westwood Near Tankersley Signed From Junc 36 M1 - Raw Enduro has a full weekend of Enduro action planned at Westwood near Sheffield on Saturday and Sunday May 14/15th.
Saturday May 14th sees an Enduro Pay and Play running from 10am - 3pm, no need to pre book simply turn up sign in and get your track access wristband. Course suitable for bikes from 85cc to all adult capacitys. Riders are asked to sign in on arrival, they will be issued with a track access wristband which must be worn all day. Riders must abide by the rules for the day which means strictly staying on the marked course at all times. Riders wrist bands will be checked when entering and exiting the track. Catering and Toilets on site.
Sunday May 15th will see a fuill day of Rock Oil Championship action. Youth riders are the first away at 08:30, then at 10:30 the adult Sportsman, Vets, Over 50 and Novice will be on track for their own 2 hour event. After a short break for morning results and track alterations, the more experienced PM riders will be flagged away for their 2.5 hour event. - Details

28/29th May - THE LAKELAND ENDURO GRATHWAITE CUMBRIA
ROUND 1 AND 2 OF THE NORTHERN ENDURO CHAMPIONSHIP
RIDERS CAN ENTER 1 OR BOTH DAYS
THIS IS A CLASSIC NORTHERN ENDURO, GRATHWAITE ORIGINALLY ORGANISED BY THE BARROW CLUB , WE HAVE A GREEN FIELD START AREA OVER LOOKING LAKE WINDERMERE AND WE HAVE NEW WOODLAND NEVER USED BEFORE A GREAT START TO THE NORTHERN ENDURO CHAMPIONSHIP TO ENTER Details

29th May 2016 - Sweet Lamb Rally Sprint
MWTRA in conjunction with Sweet Lamb Adventure Rally Bike Academy are running a Rally Sprint at the Sweet Lamb Motorsport Complex, SY18 6SY
With Classes for Rally Bikes, Trail Bikes, Enduro Bikes and Quads with sub classes
Hopefully it will be Round 1 of a 3 Round Series.
The Sprint Stage will be 15 Miles of a Rally Nature (No Forestry) and we are looking to run 5 Stages for all divided into their Classes
The regs are available now off www.mwtra.co.uk
The entries are open, closing date is the 20th May 2016


Rhayader Evening Hare 'n Hounds - Wednesday Evening 1st June - Cwmythig Hill, Start 7.00pm - Classes for: Expert, Clubman, Over 40's,- Over 50's, Sportsman & Sidecars. The lap will include both motocross circuits. At Cwmythig & nearby fields. On-line Entries - Details


WOR Events Presents
THE TOUGH 100 EXTREME ENDURO
Sat & Sun 25/26th June 2016
"The Tough One has gone, memories of the UK's most well known and revered extreme enduro are left to Nantmawr Quarry last February, Graham Jarvis and David Knight having an amazing battle with Jarvis taking the title. A new era for that special event is here in the form of the TOUGH 1OO, Details -