About
Enduro News was started in 1998 by Bob Mullins to promote the 1999 2nd round of the FIM World Enduro Championship held in Llandovery Enduro is the offroad motorcycle equivalent of car rallying. Riders follow a marked course & compete over timed stages. It requires the technical ability of Trials & the speed of Motocross. As well as the ATV machines made by Honda, Yamaha, Suzuki & Kawasaki there are specialists manufacturers such KTM, BMW, Husaberg, Husqvarna, GasGas, TM, Sherco & Aprilia. The machines require tough suspension & road legal Mx tyres. Tyre manufacturers such as Metzeler Maxxis Michelin & Pirelli sponsor the events. There is an aftermarket parts industry with Acerbis plastics, Renthal handlebars. FMF exhausts, The riding gear is also specially made by suppliers such as Sinisalo, No Fear, Thor, Scott, Oakley goggles, Fox, Alpinestar boots, Aria, Airoh helmets.
Enduro News is sponsored by CTR Events, D3 Racing, Dirtbike-Action, Dr.Shox Suspension, Eurotek, Evans Waterless Engine Coolant. Fast Eddy Racing, Edmondson Racing, Endurotyres, GBXC, Haines & Co., Husqvarna, Manchester Extreme, Midwest, Mounter Motorcycles, Paul Green Tyres. Pro-Racing, Race Spec, RideoffroadUk, Steve Plain MC, Taurustrax, TM Racing, TracknTrail, WOR Events
Enduro News received 1,000,000+ hits in 2014

All content © Bob MuIIins
WOR Events
WOR EVENTS PUTOLINE HARE SCRAMBLES RD 2
Inc THE ALED EVANS MEMORIAL SHIELD @ MAESHAFN
Report K. Williams Pictures CWL Photography
WOR Events produced a brilliant weekend of off road action for over 300 riders last weekend at their Maeshafn venue, Nr Chester. The weather was kind with sunny spells and the course was again a proper Hare Scramble loop, demanding, challenging but a thoroughly enjoyable affair for all the riders with it natural terrain and varied going. Details - Results
Rallying
Coma wins his third Sealine Rally and increases lead in FIM World Championship
Red Bull KTM Factory Racing's Marc Coma on Friday rode to victory in the fourth edition of the highly competitive Sealine Rally in Qatar. Details
Rallying
Sealine Cross Country Rally
2015 Cross Countries Rally Round 2 , Stage 5
Barreda and Goncalves on the Qatar Sealine Rally final podium
The FIM Cross-Country Rallies World Championship winds up with a stage victory for Joan Barreda and a second-place for Goncalves assuring both riders a step on the final rostrum as the championship's second round finishes. Details
Husqvarna
Husky Days in association with Off Road Skills
Wednesday 29th April - Roger Hill RaceWay
Fancy trying out one of the new Husqvarna enduro bikes? For 2015, we at Off Road Skills are running a fleet of Husky enduro bikes available for you to try out at selected events and practice days. Details
EWC
2 weeks to EWC Rd2
The second round of the 2015 World Enduro Championship will be at the GP circuit in Jerez in 2 weeks time and Enduro News will be there. Details
ISDE
With it being St Georges Day ...
Team St George would like to confirm that they will be sending a team to the ISDE in Slovakia in September. The planning has started, and should anybody wish to support the team in any way, please contact them via email – stgeorgesmcc@gmail.com or 07889406280
Jason Thomas
DIRTWISE / MAXXIS / KLIM Race team continues win streak
DirtWise / Maxxis / KLIM Race team rider Jason Thomas continued his great start to the 2015 race season, with a triumphant 1st place finish at Round 4 of the MidEast Hare Scramble series, held over the weekend in North Carolina.
DirtWise / Maxxis / KLIM team rider Drew Higgins, following consecutive 2nd places at the first rounds, scored a dominant victory in the Expert/AA class at Rd. 4 of the National Enduro series. That was such a fun race, and I'm so happy I'm able to represent my sponsors with the excellent results I've achieved so far this year." Details
Sea to Sky



Scouting the Sea to Sky


Track Director Klaus Sorensen scouting tracks with the Kemer Enduro Club team for Red Bull Sea to Sky 2015

.
WORCS
WORCS Rnd 5 2015 Sand Hollow
Gary Sutherlin takes the win at round five of the 2015 Rocky Mountain MC World Off-Road Championship Series presented by Maxxis and Dirt Bike. Precision Concept's Robby Bell finished in the second spot and RPM / KTM's Eric Yorba claimed the final spot on the podium. Report
Chris Birch

Birching a KTM 1190
Red Bull athlete Chris Birch cuts loose on his KTM1190 Adventure R in the stunning South Island of New Zealand.
Tom Sagar
Tom Sagar -
European still in sights
Heading straight to Italy after returning home from the opening round of the British Championships, there was no rest for Tom. Tom finished second overall and retained his E2 class title in 2014 and had stated that in 2015 he wanted to challenge for the overall title. Details
Rallying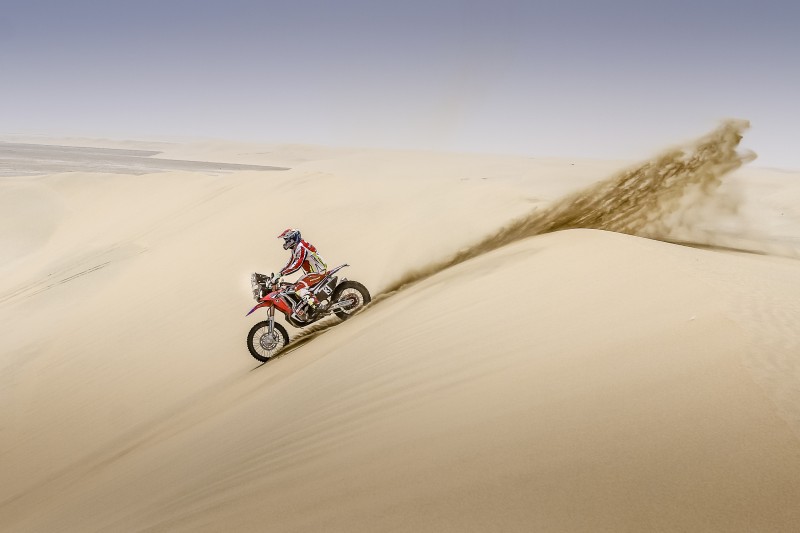 Sealine Cross Country Rally
2015 Cross Countries Rally Round 2 , Stage 4
Double for Team HRC
in the Sealine fourth stage as Barreda and Goncalves head for podium places
Joan Barreda and Paulo Gonçalves take the top-spots in the penultimate stage of the Sealine Cross-Country Rally as the Honda CRF450 RALLY seals a second consecutive win in Qatar. Details
Extreme
Fast Eddy checks out the Extreme Ravines @ Helmsley
Paul Edmondson aka Fast Eddy and his son Jack make a visit up North to checkout Dirtbike-Action's Extreme Ravines event course scheduled for the 25th April 2015. Fast Eddy said he really enjoyed the course layout. Don't miss it. Details - Final instructions & Entry List
The fourth round of the 2015 Rock Oil XC Championship will be held on Sunday April 26th, at Castle Caerienion MX track in Mid Wales. Postcode SY21 9AJ
This terrific venue provided an excellent canvas for some great races last time Fast Eddy visited and in addition to a great MX track there are field sections added to the layout to make for a great course in an cracking setting.
Sunday's event is preceded by a Fast Eddy FED day on Saturday, April 25th, where riders can make the most of the venue all day long for just £30, which is excellent value for money.
Sundays racing starts with a Youth race and is followed by two adult races, the first containing the Youth 13-16, Sportsman, Novice and Sportsman Veterans with the second race hosting the Pro, Expert, Clubman and Clubman Veteran riders.
All riders are welcome at Fast Eddy events, which run in a family friendly and relaxed atmosphere, especially. Castle Caerienion is excellent for spectators.
For more information or to book your spot at either the FED day or Rock Oil XC races call 01543 370070 or go online to www.fasteddyracing.com
Putoline - Sherco 4 Hour Enduro Championship
Round 1 April 26th Ellington Banks Ripon (Nearest Sat Nav HG4 3JZ)
Raw Enduro are promoting an additional 3 round championship based around a 4 hour enduro concept. Supported by Putoline Motorcycle Oils and Sherco, the three round Championship will have classes for 4 hour solo riders, or two man relay teams. The rules are simple; 4 hour solo riders do what it says on the tin, they ride solo for 4 hours. Two man relay teams consist of two riders, both bikes on the same race number, one rider is out on track clocking up the laps whilst the other team rider waits in a change over area. When riders want to swap they simply ride into the change over area and release the second rider by tagging him (a pat on the arm or shoulder).
A brand new course will be used for this event only around the Ellington Banks MOD site, a new start area and pits will be located just outside the paddock. Classes for the event are as follows: Sportsman Solo, Sportsman Team, Beginner Solo, Beginner Team, Clubman Solo, Clubman Team, Vets Solo, Vets team, Expert Solo, Expert Team. If a team is made up of say an expert and a clubman rider, the clubman has to ride in the expert class. Faster riders can't downgrade to make up teams.
All riders must hold a 2015 enduro licence issued by ACU, IOPD or AMCA. IOPD Annual or day licences can be purchased through RAW Enduro. Day Licences are available at signing on for a cost of £5, or annual licences are priced at £15 and should be ordered when booking in for events.
To enter this event simply text riders name, class, race number AND licence number to 07802 572023, you will then get a confirmation of entry text.
Event Schedule:
Camping from 12 noon Saturday, Youth 2 hour event starts at 9am, Adult 4 hour starts 11.30am.
For event info see the RAW Enduro facebook page – or visit www.rawenduro.co.uk
WOR Events, Next weekend, on the 25/26th April will run a new 2 day Play day special (no races) at CARROG ISA, North Wales, Just off the A5 nr Llangollen (ll21 9eu). ...Running both days from 10am till 4pm...The track will be the full 5 mile loop of the mountainside venue
Riders can Test, try out, practice, share bikes etc...A great opportunity to just "get out there" on one of the most natural Hare and Hounds Enduro tracks there is...Fully marked and marshalled ....Camping welcome and catering and toilets will be onsite as always.
All riders are welcome to take part in this no frills, ultimate practice and playtime weekend...
£35 for ADULTS AND £25 for Kids under 14 per day ...
Simply turn up or call/ text 07803698061 to enter ..
25th April CTR EVENTS Enduro Training-Practise Day 11am-3.00pm Fan Farm, Myddfai, Llandovery, SA20 0QB.
Take this chance to Practice on a race track or Practice Sundays Race, All classes just pre-book by Facebook, Email tiley66@yahoo.co.uk text 07977587250 - 07798662804 quote CTR Training-Practise Day on a fully set out Cross Country Hare & Hounds Enduro track that is already set out for Sundays CTR Race Day £55 Practice with Training or for Practice £40:- You will get A mix of Practice with Carl Tiley Training 1pm-3pm on Enduro techniques and Race prep, WE NEED ENTRIES ASAP. Camping available you are responsible for your litter please take it home!. SPECTATORS PLEASE PICK UP AND TAKE HOME YOUR LITTER.
26th April CTR Summer Series Championship 2015 Fan Farm, Myddfai, Llandovery, SA20 0QB.
RD2 - 2 & half Hour Hare & Hounds Enduro Race, Entries £50 Late Day Entry Charge of £10 :- Adult Expert /Expert Vets / Clubman Vets / Open Over 50's / Clubman / Sportsman - Novice - Beginner :- Must sign on by 10.30 Start 11am Must be on the line 10.40 ready to start Any Tyres, Competition Licence required A licence can be obtained on the day day Entries at text Full Name, Bike, Class:- 07977587250/07798662804, www.ctrevents.co.uk you can Join us on Facebook @ Carl Tiley or CTR EVENTS or email Full Name,Bike,Class tiley66@yahoo.co.uk :-Email / Text / Facebook:- Full Name, Bike, Class for entry we will then reply back with CTR Race number to confirm your place. Camping available you are responsible for your litter please take it home!. SPECTATORS PLEASE PICK UP AND TAKE HOME YOUR LITTER.
26th April - "The Autosmart Helmsley XC" - Round 2 of the Putoline/Eurotek Northern XC Championship. - AG ENDURO SPORT
Helmsley XC Postponed to a later date
Due to the upcoming extreme ravines event taking up so much land the new BEC test area is unavailable to use for the XC meaning there is not enough going to do the event justice. I am currently working on a new and more suitable date for the event.
All Paypal entries will be refunded in full.
Watch this space for a new date to be announced soon where we will have full use of the BEC test area.
Apologies for any inconvenience.
Date for Low North is confirmed 28th June ROUND 5 -
Please share
Thanks.
26th April - Track n Trail: GNCC Scramble Round 2 kicks off at Thorncombe Enduro heaven!
Track n Trail Grand National Cross Country Scramble Series continues at Thorncombe we have tagged this venue Enduro heaven, when you see her you will know why. Last summer we added a purpose built GNCC race track to this already outstanding venue.
This track has everything an Enduro rider could ask for! Grassy, open moorland, no shortage of wooded terrain and two craggy stubble fields to tear through. The first as soon as you set off at the starting area and the second to break up the woodland sections. Plus there are rocky streams beds, some 3rd and 4th gear flowing, open going and plenty of air time including a table top! You will need to keep your eyes stretched and your mind focused. I, myself, cannot wait to have a go on this track of 3 to 4 miles of cross country Heaven. This track will be one of the best Enduro tracks you will ride in 2015. This will be the only chance to ride this GNCC race track this year. Bring it on the 26th April!
For more info and race entry go to www.trackntrail.co.uk

THE PUTOLINE YORKSHIRE 2 DAY ENDURO HELMSLEY - 2/3RD MAY
The Dirtbike action team have been hard at work preparing new routes and going for the 3rd and 4th rounds of Edmondson racing British Enduro Championship over the weekend of 2/3 May. The venue Duncome park estate is located high above the picturesque market town of Helmsley in North Yorkshire. Details

IMPORTANT UPDATE
One day entries are available for the Yorkshire 2 day enduro 2/3 May this is the best time card event in the North of England you can ride Saturday or sunday over 50% of its new going totally different to the march event , this event uses the lower valleys , to book a 1 day ride phone 07557665647
3rd May - CORE Rd2 H&H Championship
Race start 10:00 - Entry fee £45.00 Day licence £10 if required. The ever popular Ashcombe venue hosts the next CORE H&H race.This is an all weather track so can run whatever the weather,plus it has Stone car park. Please only park where directed. Directions – A380 Exeter-Torquay. Turn off at Ashcombe Cross. Sign to Ashcombe Village, Grammacombe Woods on left after 200yrds. Please follow C.O.R.E arrows to the venue. Closest postcode is ex7 0qd but please do not follow Sat Nav directions as these will take you on unsuitable roads and will cause traffic problems. Please do not ride at this site at any other time as we will find out who you are and publicly name and shame you. There is covert cctv in place to catch any trespassers.
Entry

Rhayader MCC Evening HARE 'N HOUNDS
Wednesday 27th May 2015
The start will be at the Cwmythig Hill, near Rhayader First riders will start at 7.00pm.
For "On-Line Entries" – Click HERE
or for "Entry Forms" – Click HERE
CLICK HERE FOR CALENDAR FOR FULL LISTINGS