01443 400960

June 12th Ellington Banks
5 Hr Enduro Challenge
Solo / 2 Man Teams

0161 483 5559

01423 772885

Enduro Practice

KIDS TRAINING BIKE
New Kids Training Bike added to Husqvarna Motorcycles range of accessories & lifestyle products. Details
About
Enduro News was started in 1998 by Bob Mullins to promote the 1999 2nd round of the FIM World Enduro Championship held in Llandovery Enduro is the offroad motorcycle equivalent of car rallying. Riders follow a marked course & compete over timed stages. It requires the technical ability of Trials & the speed of Motocross. As well as the ATV machines made by Honda, Yamaha, Suzuki & Kawasaki there are specialists manufacturers such KTM, BMW, Husaberg, Husqvarna, GasGas, TM, Sherco & Aprilia. The machines require tough suspension & road legal Mx tyres. Tyre manufacturers such as Metzeler Maxxis Michelin & Pirelli sponsor the events. There is an aftermarket parts industry with Acerbis plastics, Renthal handlebars. FMF exhausts, The riding gear is also specially made by suppliers such as Sinisalo, No Fear, Thor, Scott, Oakley goggles, Fox, Alpinestar boots, Aria, Airoh helmets.
Enduro News is sponsored by CTR Events, D3 Racing, Dirtbike-Action, Dr.Shox Suspension, Eurotek, Evans Waterless Engine Coolant. Fast Eddy Racing, Edmondson Racing, Endurotyres, GBXC, Haines & Co., Husqvarna, Manchester Extreme, Midwest, Mounter Motorcycles, Paul Green Tyres. Pro-Racing, Race Spec, RideoffroadUk, Steve Plain MC, Taurustrax, TM Racing, TracknTrail, WOR Events
Enduro News received 1,000,000+ hits in 2014
XTREME KIELDER THE TIMBER TRAIL
Dirtbike action is pleased to announce the longest and hardest extreme enduro seen on UK soil.
After months of negotiations with the forestry commission the date has been set 30/31 July Wark forest Kielder Northumberland
The course will be 50 to 60 miles 1 lap of tough going set to test man and machine, Saturday will be prologue day starting 2 pm this will determine the start order, Sunday will see the riders with an 8 am start and 6 hours to get to the Finish. There will be bronze and silver finishing points for the lower classes but the ultimate achievement for all classes is to get to the finish this is a round of the Eurotek Putoline extreme championship. Details
GNCC
Fast Eddy Racing Rock Oil XC
Round 4 - Brake Hill Farm, Northants
The fourth round of the popular Rock Oil XC Championship, organised and run by Fast Eddy Racing, took place at Brake Hill Farm near Brigstock, Northants on Sunday.
Brake Hill Farm is a cracking venue that has two open sections with a sizeable woodland in between, giving riders a mix of both fast and technical challenges around the undulating course.
Details
Erzberg
Graham Jarvis wins Erzberg Red Bull Hare Scramble
The Red Bull ErzbergRodeo returned to the Iron Giant near Eisenerz, Austria this weekend for the 22nd time. The weather was as extreme as the terrain with temperatures soared into the 30s before a thunder storm rolled in with hailstones the size of golf balls. Details - Results - Full length video


GNCC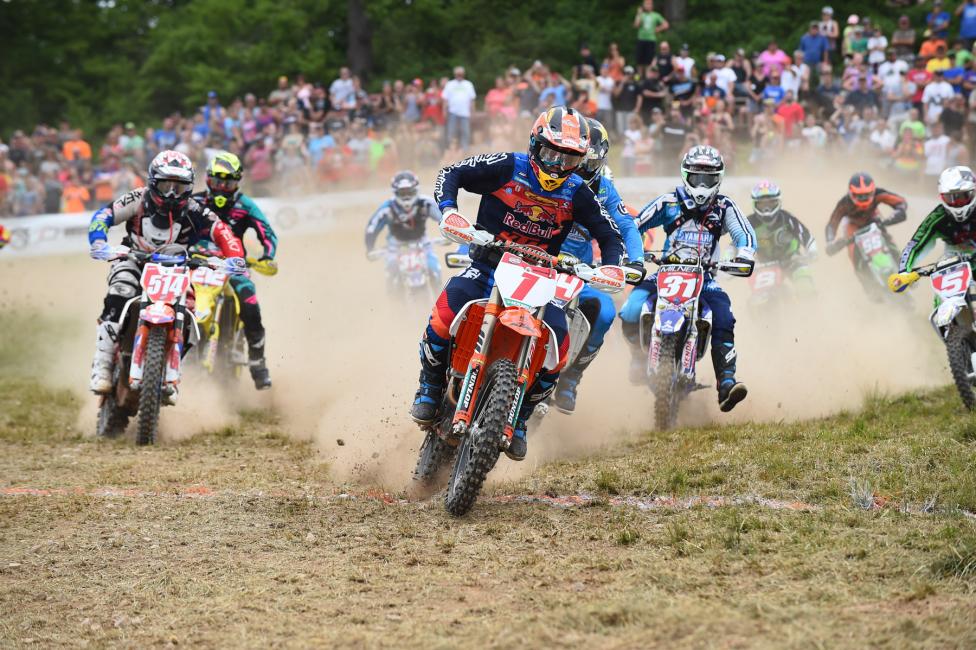 Kailub Russell Makes It Five-in-a-Row at The Wiseco John Penton GNCC
Craig Delong Captures First XC2 Pro Lites Victory of the Season
The seventh round of the 2016 AMSOIL Grand National Cross Country (GNCC) series presented by Maxxis, an AMA National Championship, took place today, May 29, with The 27th Annual Wiseco John Penton GNCC at the popular Sunday Creek Raceway in Millfield, Ohio. Details - Preview

Enduro GP of Greece

Enduro GP of Greece - Recap

Enduro GP
Paddock News
Top Organisation!
Sun, intense heat and dust are usually synonymous with Greece when the Maxxis FIM EnduroGP World Championship circus comes to town ... only it seems that the West Macedonia region could not guarantee this, even in May! For the second time this season, a GP was ruled by rain and mud. Details

WOR Events

"BAWN TO WIN"
WOR EVENTS MICHELIN XCE 2016 - Rd 2 BADEN HALL - 22nd MAY
Baden Hall was the setting for WOR Events latest enduro offering last weekend as the Michelin XCE series Rd 2 took place in the very popular Staffordshire venue. Simply biblical proportions of rain came down on the Saturday night and left the place soaked through and although the sun shone for all of the Race duration the conditions underfoot were slippery to say the least. Details

Enduro GP

Eero Remes clinches double!
Enduro GP of Greece - 20/22nd May
Following his first EWC win at the opening day of the Enduro GP of Greece Eero Remes started Day 2 by setting the fastest times on all 3 tests of the first lap and establishing a 22 second lead over Jonny Aubert. Details - Results - Videos Testing - Supertest - Day 1 - Day 2 Reports Husqvarna - GasGas - Yamaha -

Highlights of Day 2



Enduro GP
Mika Ahola « Brave One » Trophy
As soon as they walk the tests for the first time, riders were a bit scared about the Enduro Test of this Grand Prix Maxxis of Greece. Long and technical, this test took a lot of energy from the stars of the EnduroGP and the rain we face from Thursday made it even more nice and demanding! . - Details

Rallying
The Baja GB All Terrain Challenge
Sweet Lamb Rally Complex - Llanidloes
Report Photos Tim Tighe
On the wettest weekend of the year so far the Baja GB Rally event took place last weekend at the Sweet Lamb Rally Complex near Llanidloes, Wales. - Details

Rallying
Afriquia Merzouga Rally: HRC rider Kevin Benavides claims the win - Details

KTM
UPGRADE: KTM SX MODELS MODEL YEAR 2017 ARRIVING IN DEALERS SOON!!
The READY TO RACE KTM SX Motocross range MY 2017 is currently arriving in dealers with various refinements and upgrades across its 2-stroke and 4-stroke line-up, as well as a brand new 250 SX machine. Details

USA
Russell Bobbitt Takes Cherokee National Enduro Win
FMF/KTM's Russell Bobbitt grabbed his first win of the season this weekend at the Boyesen 2-Stroke Revolution Cherokee National Enduro in Greensboro, Georgia – round four of the Kenda AMA National Enduro Series. Details


Extreme
Team Hensall profiles Chris Windle
WOR Events
Big info here folks...
New venues / events etc
Steve Ireland announces superb BRAND NEW VENUES plus an update on the TOUGH ONE 100 - Details

W2D
Welsh 2 Day Enduro - Llandrindod Wells 23rd & 24th June
KTM
2017 KTM exc's in action
USA
Kenda/ SRT National Hare and Hound - Rnd 3 - Jericho, Utah
Rallying
Kevin Benavides to ride for Team HRC in the Merzouga Rally
Team HRC welcomes young Argentine talent Kevin Benavides who joins the ranks of the official Honda Racing Corporation team and is set to participate in the Merzouga Rally, which gets underway in Morocco next week. Details

GasGas
GasGas Enduro back at Buxton
The first delivery of GAS GAS 2017 EC300 Enduro Bikes have arrived at GAS GAS MOTOS LTD base in Buxton, SK17 9JL. GAS GAS MOTOS LTD is now the sole UK importer for all things GAS GAS Trials and Enduro.

KTM

Eurotek KTM's Paul Bolton prepares for Erzberg
USA
2016 Full Gas Sprint Enduro - East Coast ISDE Qualifier
Enduro Legends

Enduro Legends - Training with Fast Eddy

KTM
A NEW GENERATION OF KTM ENDURO MACHINES IS HERE!
KTM once again underlines its commitment to its foundations in offroad, as its world - dominating, class-leading Enduro machines have been completely revised with a staggering 90 per cent of the model year 2017 line-up's components being new. Notable weight reductions of up to five kilograms have been realized throughout the model range, with improved mass centralization resulting in increased performance and better handling. - Details

Triple-D Motorsport

01539 732666



FINANCE AVAILABLE
Subject to status
Featured Events


Rhayader Evening Hare 'n Hounds - Wednesday Evening 1st June - Cwmythig Hill, Start 7.00pm - Classes for: Expert, Clubman, Over 40's,- Over 50's, Sportsman & Sidecars. The lap will include both motocross circuits. At Cwmythig & nearby fields. On-line Entries - Details

5th June - Track n Trail Free Ride Two Valleys
Enduro practice on a 3 to 4 mile track set near the beautiful village of Winterbourne Abbas Nr Dorchester Post code DT2 9HD, the track uses some of the best parts of our very popular race track and includes some flowing grassy fields, a woodland section and a tight and twisty scramble track set on the side of a hill including jumps and a hard and easy route.
Noise limit 94 dB Any tyres
Time; 10 am to 3pm free riding, cost for the day is £32 for Members and £ 35 non members. To enter please go to www.trackntrail.co.uk
There will also be a youth beginner's track available. Cost £10 .
TRACK PREVIEW
Run under ACU guidelines.
Thanks for your support Mike.

RAW Enduro Challenge – 5 Hour Solo & 2 Man Relay Team Hare & Hounds
Round 2 Ellington Banks Ripon - June 12th HG3 5JZ
Here it is folks after a really successful and enjoyable first round at Butts Quarry in April, Round two of the RAW Enduro challenge series increases in difficulty by way of the 5 hour event duration. The lap length will also increase, then for round three at Driffield in August the monster 6 hour, we will have the monster long lap it deserves for the finale.
This visit to Ellington will see the whole paddock and Parking area based at the top end of the site in two adjacent paddock areas. One will be camping only, the other a general paddock close to where all the action will take place. This also means that there will be no need to walk up the access road with Pit Boxes and fuel cans. Our usual caterers will be based within the new paddock area.
Solos simply grind it out for 5 hours, relay teams consist of one rider on track, the second rider in a holding area. Both bikes run the same race number, or riders can share one bike. Team riders "tag" their partner to release them from the holding area onto track. So, one rider is on track clocking up the laps whilst the other takes a break. Riders can change at any point.
We have a Youth Event on the schedule, although this will only run if we have a minimum of 15 riders booked in by Wednesday June 8th.
Entries can be processed online via www.rawenduro.co.uk riders can enter online and choose prepay or pay on day. We accept ACU or IOPD licences, any rider without a licence can get an IOPD annual licence from RAW for £15.
Online entries get Fastrack sign on with no queues on race day.
Updates and picture of the course build will be posted on the Raw Facebook page the week of the event.


WYN HUGHES ENDURO TRAINING DAYS
11th/12th June 2016
11th June novice / clubman riders
12th June clubman / expert.riders
to be held at Newcastle Emlyn
£80 per person per day.
Limited places available
To book email wyn@freestylebikes.co.uk .


WOR Events Presents
THE TOUGH 100 EXTREME ENDURO
Sat & Sun 25/26th June 2016
"The Tough One has gone, memories of the UK's most well known and revered extreme enduro are left to Nantmawr Quarry last February, Graham Jarvis and David Knight having an amazing battle with Jarvis taking the title. A new era for that special event is here in the form of the TOUGH 1OO, Details -