Videos
Rock the Valley
KTM 250 EXC v Husqvarna TC250 Shootout
Renet, Nambotin & Joly Training
Yamaha Miglio Team
CTR WSC Final
2015 AMA H&H Round 2
Full Gas Sprint Enduro Series Round 1
DirtbikeAction practice day Team Hensall
FIM SuperEnduro GP of Mexico
Sucker Punch Round 2
Jonny Walker The Movie
Italian Enduro Championship Round 1
Fast Eddy Extreme Tong
Happy New Year Team Hensall
CTR Motoduro Final
Heads of the Valleys Digger Films
David Knight at the Heads of the Valley Interview
1989 Gernan ISDE
2014 Wildwood Rock Hillclimb
CTR WESC Round 3
About
Enduro News was started in 1998 by Bob Mullins to promote the 1999 2nd round of the FIM World Enduro Championship held in Llandovery Enduro is the offroad motorcycle equivalent of car rallying. Riders follow a marked course & compete over timed stages. It requires the technical ability of Trials & the speed of Motocross. As well as the ATV machines made by Honda, Yamaha, Suzuki & Kawasaki there are specialists manufacturers such KTM, BMW, Husaberg, Husqvarna, GasGas, TM, Sherco & Aprilia. The machines require tough suspension & road legal Mx tyres. Tyre manufacturers such as Metzeler Maxxis Michelin & Pirelli sponsor the events. There is an aftermarket parts industry with Acerbis plastics, Renthal handlebars. FMF exhausts, The riding gear is also specially made by suppliers such as Sinisalo, No Fear, Thor, Scott, Oakley goggles, Fox, Alpinestar boots, Aria, Airoh helmets.

All content © Bob MuIIins
GBXC

2015 GBXC
begins this weekend
H20 nr Oswestry
With David Knight and Tom Sagar are already confirmed for this weekends GBXC Sprint and ACU GBXC Championship, the venue of H20 at Oswestry is looking prime. A terrific entry for Saturdays Sprint National has inspired Paul Edmondson to really pull out all the stops and set up two spectacular challenges. The GBXC Sprint Nationals will run the new hugely successful format of 2 timed special tests which will cater for all levels and ability. All riders will get a sighting lap followed by six timed laps on each test. There will be a moto-cross and a cross-country style test. Details - Sprint Start List
RORE

RORE Rogers Hill Raceway, 22nd March 2015
First event of the year for RORE and what a great entry with an excellent Championship class of 11 riders, lap of 6 miles with that cross country theme of fast and flowing areas and a few hazards to mix things up. Report - Photos
BEC
2015 ACU EDMONDSON RACING BRITISH ENDURO CHAMPIONSHIP
I'm proud to announce a new and exciting way of getting all the information from each round to all riders, teams, support crews, enthusiast's, press and sponsors alike. Details
SRMCC
Bull Charges to Victory
SRMCC, Ashdown Farm
21st March 2015
First event of the year for South Reading MCC and what a good lap they put out of over 6 miles including 2 MX sections, fast open fields and plenty of woodland.
Expert Class
Andrew Bull dominated from start to finish and by the end of lap one he had such a lead he could control at his leisure and entertained all with his skills especially in the fast open areas of Ashdown, for the other podium places it was definitely more of a battle with the two Sherco riders of Jon Hunt and Tom Ellwood who were eventually split by Cornish rider Kyle Jacobs who finished 3rd on the podium and it was Jon Hunt who won the Sherco battle with runners up spot and Tom 4th, Report - Photos - RedBikeJohn
SuperEnduro
FIM SuperEnduro World Championship
Compilation of the 7 Best Crashes of the season
Rallying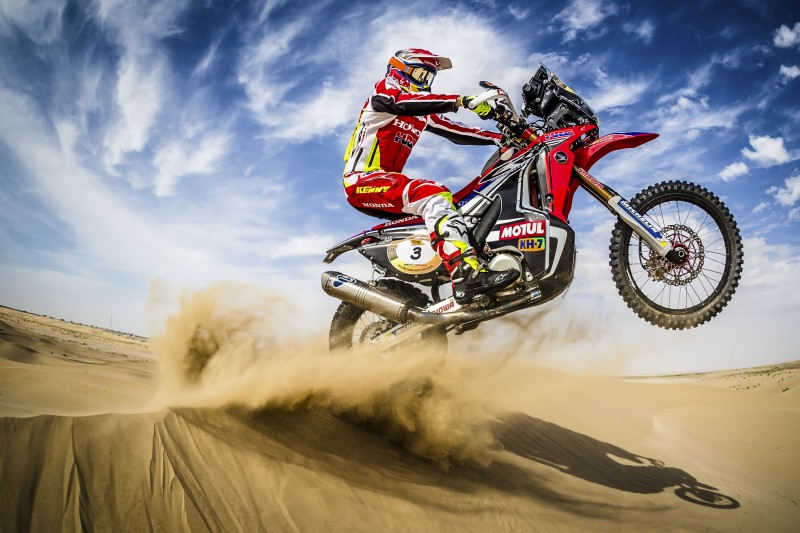 Abu Dhabi Desert Challenge
Team HRC back to work
The action returns once more as we bid farewell to silly season. It will be sand, dunes and competition galore as the first race of the FIM Cross Country Rallies World Championship – the Abu Dhabi Desert Challenge – fires up this weekend and Team HRC will be right there in the fray. Details - Interview with Joan Barreda Details
Dirtbike-Action

Dalton Round 1 of the Eurotek Putoline Northern XC Championship
Sam burns to win at Dalton
Dalton moto parc near Thirsk hosted round 1 of the new Eurotek Putoline Northern XC Championship. Event director John Kerwin set out an interesting course utilizing the mx track so the riders could ride nearly a full circuit before entering the xc parts of the course. Details
Enduro-X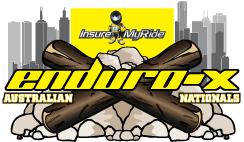 2015 InsureMyRide Enduro-X Nationals
American Mike Brown continued his flawless run at the third and final round of the 2015 InsureMyRide Enduro-X Nationals held at Calder Park in Victoria on Saturday night, the 14th of March to wrap up the championship title. Details
SuperEnduro
Maxxis FIM SuperEnduro World Championship Junior Class
A lot of new talents!
After a rich season, it's time to make a balance sheet of the 2014/2015 edition of the Maxxis FIM SuperEnduro World Championship, class by class. And after the Prestige class on Tuesday, let's have a look to the Junior class now... Details
GNCC
Kailub Russell Looks For Three-in-a-Row at Sunday's Steele Creek GNCC
North Carolina Transplant Josh Strang Attempts to Break Through For a Win
The 2015 AMSOIL Grand National Cross Country Series presented by Maxxis, an AMA National Championship, heads to Morganton, North Carolina this Sunday, March 29, for round three of the 13-race championship series. Details
AMA
Ivan Ramirez wins
Kenda/SRT National H&H Championship Rd3
KTM/FMF factory racer Ivan Ramirez was back on top of the podium this weekend with a wire to wire victory and closes the points gap on THR Motorsport's Ricky Brabec. Details
Husqvarna
Enduro World Championship Season Preview
Husqvarna Motorcycles target success in 2015 EWC
Husqvarna Motorcycles are looking forward to a successful start to their 2015 FIM Enduro World Championship campaign, which begins in a little over four weeks time when the seven round series kicks off in Talca, Chile on April 17. Details
28th March - CTR EVENTS Enduro Training-Practise Day 11am-3.00pm Bronydd Mawr Farm, Llywel, Trecastle, Llandovery, LD3 8RD. New North Track - Take this chance to Practice on a race track or Practice Sundays Race, All classes just pre-book by Facebook, Email tiley66@yahoo.co.uk text 07977587250-07798662804 quote CTR Training - Practise Day on a fully set out Cross Country Hare & Hounds Enduro track that is already set out for Sundays CTR Race Day £55 Practice with Training or for Practice £40:- You will get A mix of Practice with Carl Tiley Training 1pm-3pm on Enduro techniques and Race prep, WE NEED ENTRIES ASAP. Camping available you are responsible for your litter please take it home!. SPECTATORS PLEASE PICK UP AND TAKE HOME YOUR LITTER. Details
29th March - CTR Summer Series Championship - RD1 - Bronydd Mawr Farm, Llywel, Trecastle, Llandovery, LD3 8RD. New North Track - 2 & half Hour Hare & Hounds Enduro Race, Entries £50 Late Day Entry Charge of £10 :- Adult Expert / Expert Vets / Clubman Vets / Clubman / Sportsman-Novice-Beginner :- Must sign on by 10.30 Start 11am Must be on the line 10.40 ready to start Any Tyres, Competition Licence required A licence can be obtained on the day day Entries at text Full Name, Bike, Class:- 07977587250 / 07798662804 you can Join us on Facebook @ Carl Tiley or CTR EVENTS or email Full Name, Bike, Class tiley66@yahoo.co.uk :-Email / Text / Facebook:- Full Name, Bike, Class for entry we will then reply back with CTR Race number to confirm your place. Camping available you are responsible for your litter please take it home!. SPECTATORS PLEASE PICK UP AND TAKE HOME YOUR LITTER. Details
Saturday 28th March - ActionTrax Enduro - North Farm Tunbridge Wells. This is our home track, we're constantly evolving at this site, and no 2 events here have the same layout, with plenty of mixed riding, technical woods sections and fast open fields, there's something for everyone. The entrance to this track is located just off the roundabout with the A21 at Tunbridge Wells Industrial Estate. The Junction into Kingstanding Way is at the traffic lights next to Carpet Right. The site entrance is about 500 yds down Kingstanding Way after the "K College" sign. PostCode: TN2 3UP. Details
29th March - WOR Events will run the MICHELIN NORTH WALES ENDURO in the Llandrillo forest.
The last long lap time card enduro event the WOR ran back in December 2014 was a huge success and once again they aim to deliver another classic. Details
Track N Trail Enduro Freeride Sunday 12th April
Tenko- THE ULTIMATE JUNGLE TRACK,
Track N Trail are welcoming to this awesome sand track for a practice day at a very unique location. This track is known by many of you as the "Ultimate Jungle Track". You will ride though flowing woodland with jumps and sandy terrain that is similar to the Japanese Jungle. Gravelly and sandy terrain will make the track quite technical, so keep your wits about you.
There's a YouTube clip on our website homepage which you can check out. It's the second video on the rotator screen. Video
We've tagged this track "The Ultimate Jungle Track" because it was used by the BBC to film the TV series Tenko back in the 80's as it looks so similar to the Japanese jungle!
Payment is on the day. Members pay £32. Non Members pay £35 Starts 10am finishes 3pm.
Venue: Tenko Nr Dorchester, closest Post code is DT2 8BG
Any tyre. Noise limit 94db. This venue should prove very popular so please book up now. Adult and youth practice plus a youth beginner's track, payment is on the day, Youth beginners track £ 10 Starts 10am finishes 3pm.
To Sign Click here Payment is on the day. You will receive an email to confirm your booking within 24 hours. An email with a final instructions will then be sent on the Friday before the event. Any problem please ring or text 07581143212.
5th April - CORE offroad next event Escot Park near Honiton. All day practice only £30.
broad leaf woodland venue Escot Park near Honiton in Devon. - EX11 1LU
This will be a full days practice (due to conflicting local races) and you will be free to ride as much as you like from 9:30am - 5:00pm.
The track flows through the woodland, up and down the hillside through a stream and along forestry tracks. It is suitable for all from beginner to expert.
Catering on site from 'Love Food' Paramedic cover from 'Countywide Medical' Toilets provided Prices are £30 in advance, £35 on the day.
Kids aged 10 + are welcome if accompanied by an adult.
Helmet and mx boots must be worn. - Full protective gear advisable. Any tyres Mx, Enduro, Trail or Pitt bikes welcome - bring as many bikes as you like as you pay per rider not per bike.
Click here to enter & pay online with Paypal.
26th April - Track n Trail: GNCC Scramble Round 2 kicks off at Thorncombe Enduro heaven!
Track n Trail Grand National Cross Country Scramble Series continues at Thorncombe we have tagged this venue Enduro heaven, when you see her you will know why. Last summer we added a purpose built GNCC race track to this already outstanding venue.
This track has everything an Enduro rider could ask for! Grassy, open moorland, no shortage of wooded terrain and two craggy stubble fields to tear through. The first as soon as you set off at the starting area and the second to break up the woodland sections. Plus there are rocky streams beds, some 3rd and 4th gear flowing, open going and plenty of air time including a table top! You will need to keep your eyes stretched and your mind focused. I, myself, cannot wait to have a go on this track of 3 to 4 miles of cross country Heaven. This track will be one of the best Enduro tracks you will ride in 2015. This will be the only chance to ride this GNCC race track this year. Bring it on the 26th April!
For more info and race entry go to www.trackntrail.co.uk

THE PUTOLINE YORKSHIRE 2 DAY ENDURO HELMSLEY - 2/3RD MAY
The Dirtbike action team have been hard at work preparing new routes and going for the 3rd and 4th rounds of Edmondson racing British Enduro Championship over the weekend of 2/3 May. The venue Duncome park estate is located high above the picturesque market town of Helmsley in North Yorkshire. Details
CLICK HERE FOR CALENDAR FOR FULL LISTINGS
Enduro News is sponsored by CTR Events, D3 Racing, Dirtbike-Action, Dr.Shox Suspension, Eurotek, Evans Waterless Engine Coolant. Fast Eddy Racing, Edmondson Racing, Endurotyres, GBXC, Haines & Co., Husqvarna, Manchester Extreme, Midwest, Mounter Motorcycles, Paul Green Tyres. Pro-Racing, Race Spec, RideoffroadUk, Steve Plain MC, Taurustrax, TM Racing, TracknTrail, WOR Events
Enduro News received 1,000,000+ hits in 2014