Steward Baylor Jr. Takes 2019 Season Opener Victory in Florida
Ben Kelley Earns XC2 250 Pro Class Win.
The 2019 AMOSIL Grand National Cross Country (GNCC) Series presented by Specialized, an AMA National Championship, season opener concluded on Sunday, March 10, 2019 in Palatka, Florida with the 5th Annual Wild Boar GNCC. Tely Energy Racing/KTM's Steward Baylor Jr. would be the first one to cross the finish line after a grueling three-hour race.
Steward Baylor Jr. captured the season opener win after a grueling three-hour race in the Florida sand. - Ken Hill
As the race got underway it was Imagine Moto/Makson Inc./Romar Marina's Heath Harrison grabbing the $250 All Balls Racing XC1 Holeshot Award and heading into the woods first. When they emerged, it was FMF/KTM Factory Racing's Kailub Russell in the lead position. Russell would maintain the lead for the first three laps before battling with S. Baylor. At the halfway mark Russell was in the number two position, Russell would remain focused for the last three laps and take the checkers and second place overall at the season opener.
Rockstar Energy/Factory Husqvarna Racing's Thad Duvall did not get the start most hope for, but by the second lap Duvall was at the front of the pack fighting for second place. After swapping positions throughout the race, Duvall would hold onto the last podium position as the two-lap card came out. Duvall would remain consistent during the last two laps, ultimately finishing in third overall.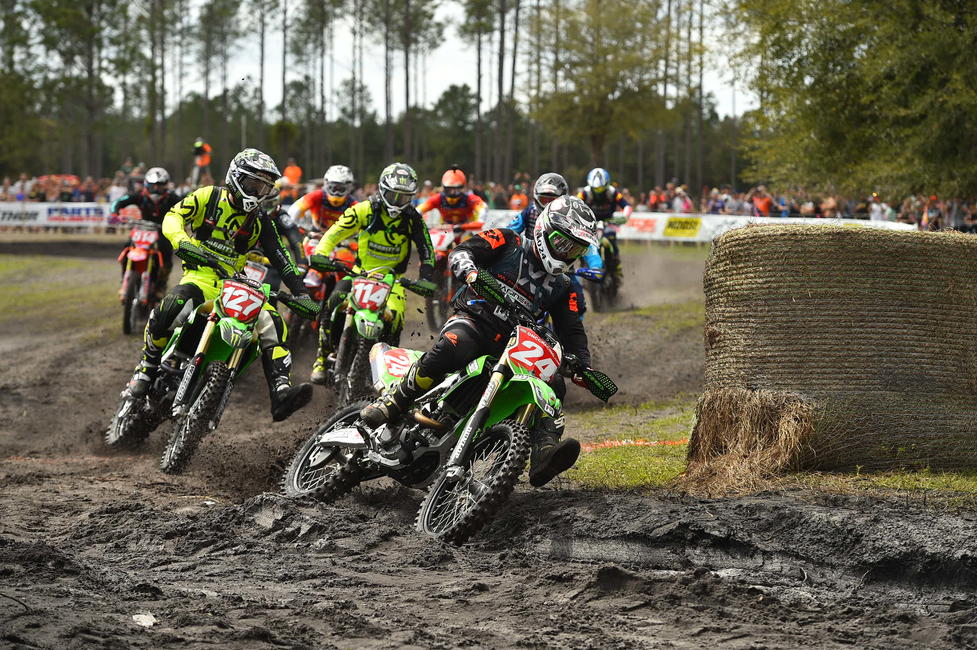 It was a sea of green at the holeshot line for the XC1 class, Heath Harrison grabbed the $250. - Ken Hill
Duvall's teammate, Trevor Bollinger came through in the fourth place position at the conclusion of a demanding three-hour race. Bollinger looked comfortable and ready to battle for a National Championship on his new Rockstar Energy/Factory Husqvarna. XC1 Open Pro rookie and FMF/KTM Factory Racing's Josh Toth had a good season opener and XC1 debut as he finished in the fifth place position, after battling back from a seventh place start to the day.
The Babbitt's Online/Monster Energy/Kawasaki duo of Josh Strang and Jordan Ashburn finished sixth and eighth in the XC1 class. Strang and Ashburn both had a great jump off the line, heading into the woods second and third. Phoenix Racing Honda's Andrew Delong would hold onto a seventh place class finish in the Florida sand, while AmPro Yamaha's Paul Whibley took home ninth place. Lunova Racing/Team Green Kawasaki/Stiller Motorsports' Christopher Venditti also made his XC1 debut, rounding out the top 10 in class.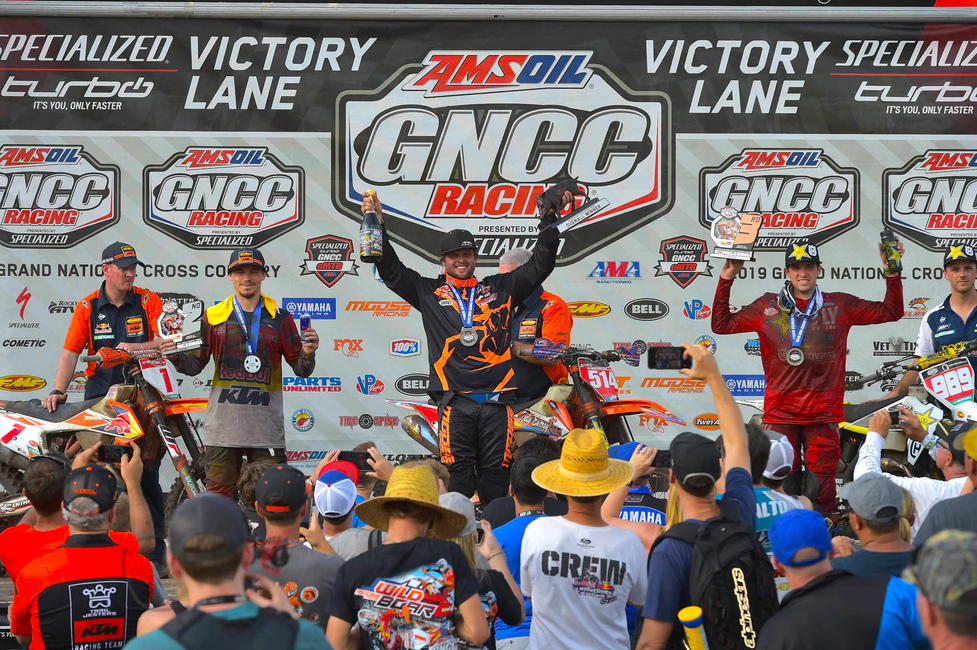 Steward Baylor (center), Kailub Russell (left) and Thad Duvall (right) took the top three overall positions at round one. - Ken Hill
As the XC2 250 Pro class took off it was Beta USA Factory Team's Mike Witkowski grabbing the holeshot. However, it wouldn't take long for XC2 defending champion and Trail Jesters KTM/FMF's Ben Kelley to take over the lead. After getting into the lead Kelley would push throughout the three-hour race, finishing fourth overall on the day and earning the first XC2 win of the season.
Trail Jesters KTM/MCS Racing/SSR Rider Development's Jonathan Girroir came through timing and scoring in the second place position after lap one. Girroir was having a breakthrough season in 2018, finishing third twice, before injuring his knee after eleventh round. Girroir came back in 2019 on a new team and ready to go racing, which definitely was shown as he came through second in the XC2 250 Pro and eighth overall.
Ben Kelley captured the XC2 class win followed by Jonathan Girroir (left) and Mike Witkowski (right). - Ken Hill
After grabbing the holeshot, Witkowski would not fall off the pace. He came through in the third place position at the conclusion of lap one, but would fall back to fifth about halfway through. However, Witkowski would put his head down and push as the two-lap card came out and work his way back to third by the time the race concluded.
In the FMF XC3 125 Pro-Am class it was Trail Jesters KTM and defending champion, Jesse Ansley grabbing the holeshot and the class win. Ansley and Beta USA Factory Team's Cody Barnes would battle on the second lap, but Ansley would make the pass stick and hold on to the lead. Barnes would manage to remain consistent and finish second in the XC3 class, followed by Husqvarna's Jake Froman in third.
Florida's own Bryce Koster would take home the amateur overall award finishing first in the 250 A class, and 18th overall. Canada's Loic Lenoard earned second in 250 A and on the amateur overall podium with a 20th overall finish. Chris Bach took home the Vet A class win, and third on the amateur overall podium with a 22nd overall finish.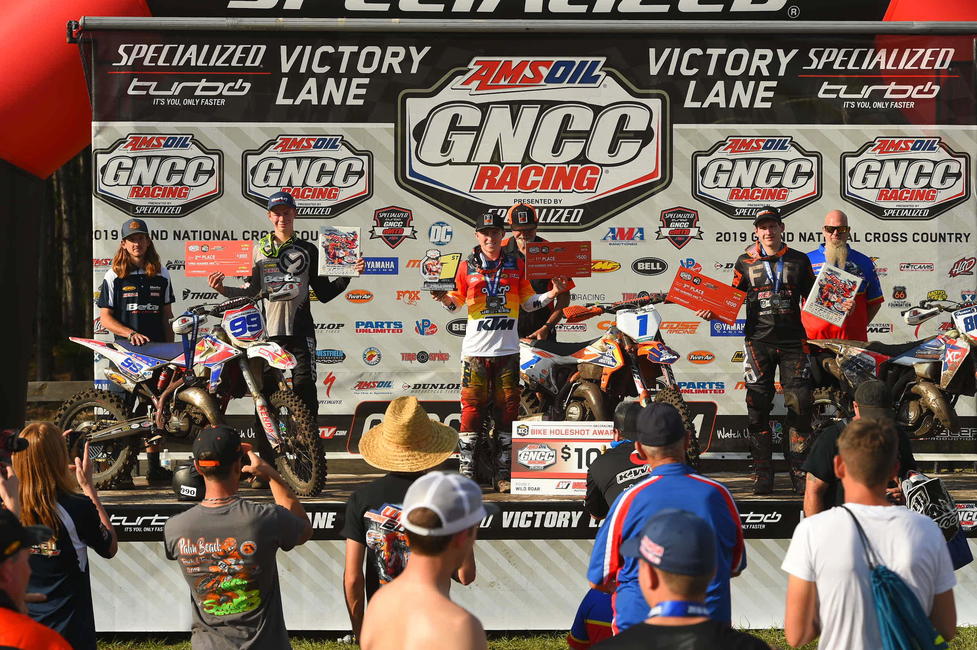 Jesse Ansley (center), Cody Barnes (left) and Jake Froman (right) rounded out the FMF XC3 podium. - Ken Hill
In the 10 a.m. race it was Rockstar/Husqvarna/Moose Racing/Shaw Wines Tayla Jones capturing the overall win as well as the WXC class win at the season opener. Fly/Maxxis/Pro Circuit/KTM's Becca Sheets earned second overall and in the WXC class, after coming through one minute behind Jones. KTM/MEPMX/Fly Racing's Mackenzie Tricker earned third in the WXC class and eighth overall in the morning race. A special guest made an appearance in the Sportsman A class, Travis Pastrana signed up and dabbled in some off-road racing for fun.
As the youth racers took off at 8 a.m. it was Joseph Cunningham coming through the checkers first overall and in his YXC1 Super Mini Sr. class. Grant Davis followed earning second overall and first in the YXC2 Super Mini Jr. class. Brayden Nolette came in third overall and second in YXC1 Super Mini Sr., followed by Cooper Jones who earned second in the YXC2 Super Mini Jr. class. Blaceton Moore rounded out the top five overall and top three in the YXC1 Super Mini Sr. class.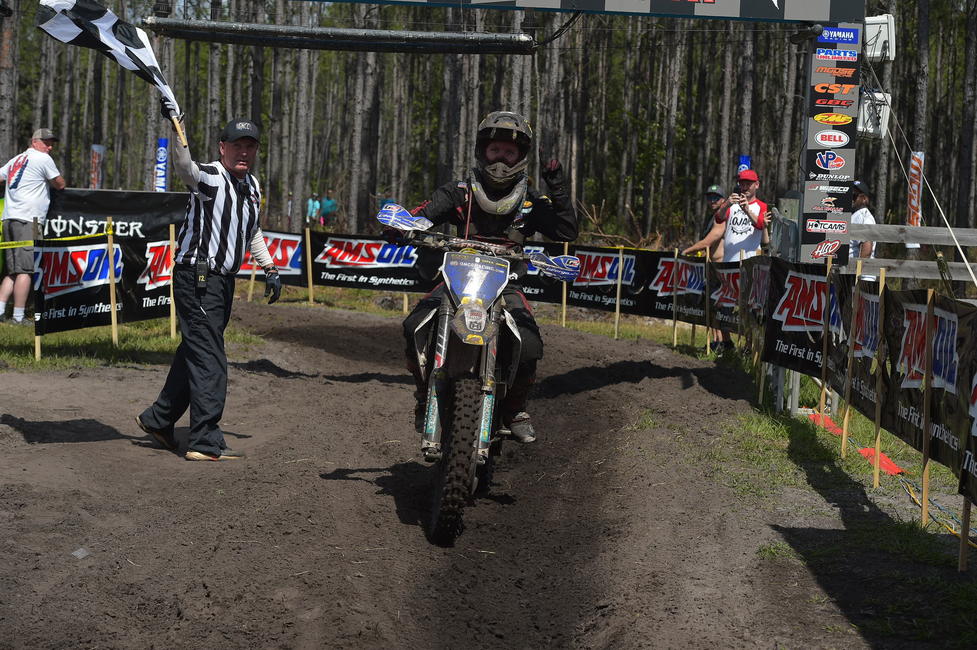 Tayla Jones took home the WXC win in Florida.Tayla Jones took home the WXC win in Florida.
- Ken Hill
The 1 p.m. bike pro race was broadcast LIVE in its entirety on RacerTV.com and can be viewed as archived video online by visiting the GNCC LIVE page online. A highlight show featuring the event will be aired on the NBC Sports Network on Saturday, May 25 at 1:30 p.m. EST.
The 2019 AMSOIL Grand National Cross Country Series resumes in one week, March 16 and 17, in Washington, Georgia with The Specialized General GNCC. This event will also feature round one of the Specialized Turbo eMTB GNCC National Championship.
For more information on the GNCC series, visit the official website at www.gnccracing.com or call (304) 284-0084. Join the conversation on the series Facebook page, follow us on Twitter and Instagram, and be sure to always hashtag #GNCC.
Facebook: @gnccracing
Instagram: @gncc_racing
Twitter: @gnccracing
YouTube: @racertv
Moose Racing Wild Boar Palatka, Florida Round 1 of 13 Sunday, March 10, 2019
XC1 Pro Event Results:
Steward Baylor (KTM)
Kailub Russell (KTM)
Thad Duvall (HQV)
Trevor Bollinger (HQV)
Josh Toth (KTM)
Josh Strang (KAW)
Andrew Delong (HON)
Jordan Ashburn (KAW)
Paul Whibley (YAM)
Christopher Venditti (KAW)
*Overall National Championship Standings:
Steward Baylor (30)
Kailub Russell (25)
Thad Duvall (21)
Benjamin Kelley 18 )
Trevor Bollinger (16)
Josh Toth (15)
Josh Strang (14)
Jonathan Girroir (13)
Michael Witkowski (12)
Andrew Delong (11`)
*Indicates that the Overall National Championship Standings will determine the 2019 National Champion.
XC2 250 Pro Event Results:
Benjamin Kelley (KTM)
Jonathan Girroir (KTM)
Mike Witkwoski (BET)
Evan Smith (HQV)
Tegan Temple (KTM)
Ben Parsons (HQV)
Jonathan Johnson (KAW)
Philippe Chaine (KTM)
Alex Teagarden (HQV)
Zack Hayes (KTM)
XC2 250 Pro Series Standings:
Benjamin Kelley (30)
Jonathan Girroir (25)
Mike Witkwoski (21)
Evan Smith (18)
Tegan Temple (16)
Ben Parsons (15)
Jonathan Johnson (14)
Philippe Chaine (13)
Alex Teagarden (12)
Zack Hayes (11)
For more information, please visit www.gnccracing.com .